COLLA GG
is an artist name of brazilian artist
Gabriella Garcia
. She was born in Rio De Janeiro, but she lives and works in São Paolo. We find her unique collages through an emerging and interesting collective of brazilian female artists –
Coletivo Piscina.
We've messaged her via
Instagram
and she quickly respond with warm agreement.
She also made for us a special musix mix. You can listen it below:
[soundcloud url="https://api.soundcloud.com/tracks/292159802″ params="auto_play=false&hide_related=false&show_comments=true&show_user=true&show_reposts=false&visual=true" width="100%" height="450″ iframe="true" /]
Gabriella started creating from her personal fashion, architecture and art picture collection. She chose collage as a language to give shape to emotions in all levels of consciousness. "It is as if I were putting together bizarre, grotesque, repressed dreams from different levels of consciousness, trying to extract doubts, desires and fears", she sums up.
Although collage is her main technique, she explores multiple themes, such as sexuality, the Renaissance and minimalism. Her work is a mix of different techniques, with interventions in painting, lines, paper sculptures and recently, acrylic on canvas.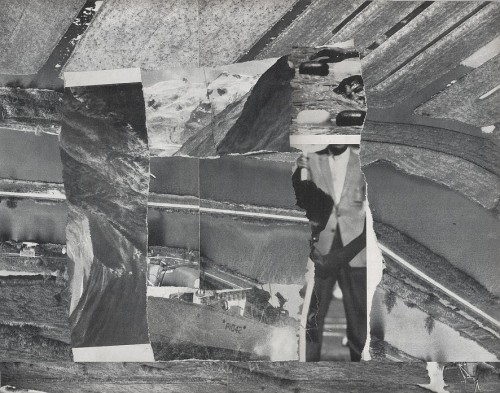 When did you start making art, are you always involved into creating some paintings, drawings or collages?
I started developing my research with 18 years old, experimenting with collages techniques. before that I was very interested in plastic art, but I thought that I didn't had "the gift" to produce art, until I let myself drown into deconstruction for the first time and had some great results.
Did you study art on a school, it was important for you? When did you find your artistic style?
I never studied art trough institutions or high school, but I always have been enthusiastic. As a self-taught I started creating free of references and theory, which made my research and technique very peculiar and emotional in the beginning. I realize that i found my artistic style when started to mix my feelings with my research, with no fear of results. When I started my research and study art by my own I felt a was really growing and evolving as human being. Was an organic process of self knowledge which reflects directly into my work.
Where are you from exactly and are you happy to create art in Brazil? Is current scene there rich and interesting? (Can you recommend us some of your favourite brazilian artist?) 
I was born in Rio but I'm based in São Paulo. I can say I'm pretty lucky to find a great team here who I develop part of my work together. Being independent artist in Brazil is not easy, but I believe those difficulties and needed to get throught many situations to still living by art here makes me strong and confident to produce more and more each day and spread my work to the world. I have many brazilian Idols in plastic art, that really inspires me like: Lygia Clark, Pape, Claudio Tozzi, Tunga, Cildo Meireles, Henrique de Oliveira, Barrão, Zerbini, Daniel Senise, Adriana Varejão, Miguel Rio Branco… New artists like Volatile Ferreira, Luiza de Alexandre, Maíra Senise, Gais Ama, Modular Dreams (duo project from São Paulo that uses modular synthesis).
How is music important for you? Do you create collages and listen to music?
Music is part of my creative process and also part of my job. whether making art cover for labels like "in their feelings", "get physical"and "soul clap records" I collab with "ODD", it's a very special group here in São Paulo that presents really good music, visuals and cultural experiences. It's great to show different collages and instalation approachs and also invite new artist to present new works in each edition. It's such a great privilege to have music involved in my work 100%
–
Text: Krištof Budke