BRATISLAVA. Klub Dole, this month's Hochspannung! party will host Bristol's DJ and producer named Kowton. Joe Cowton, by his real name, together with Peverelist and Asusu a.k.a. Livity Sound, is a good sample of today's London's techno music with inventive and raw sound.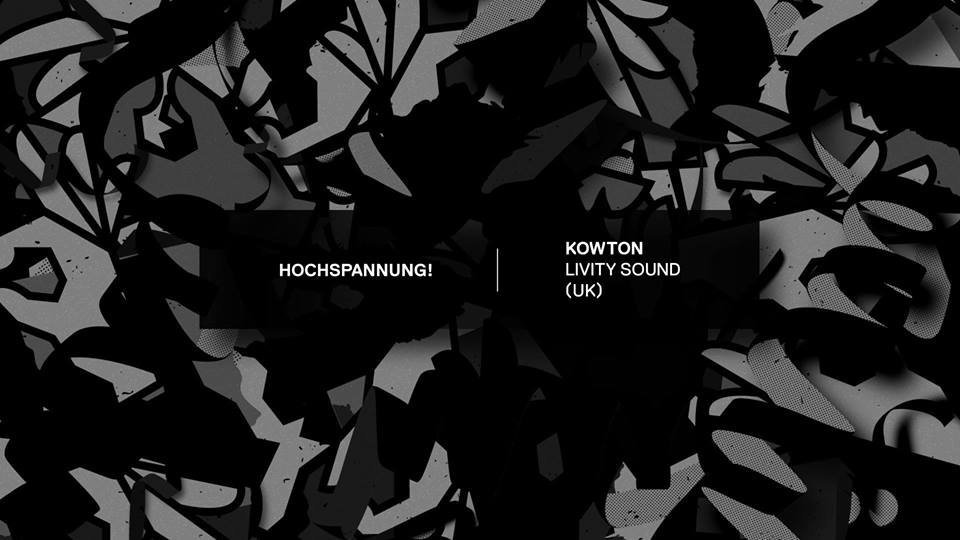 His solo performance is characterized by the minimalistic way he cuts his beats, influenced by garage energy, explosiveness of grime and the depth of techno sound . Kowton's live acts are playing with dancing vibes that electrifies you, just with focus on pure functionality of dance music. If you have noticed this year's Kowton's shows at Berghain or Dekmantel, you probably don't want to miss this party. Before his show at Hochspannung, our editor Denisa asked him a few questions.
What kind of music influences you nowadays?
All sorts! I mean its quite hard to just fire off a list but in the past few days I've been going deep into the  the Mika Vanio back catolog, getting lost in DJ Qu's psychedelic house trips, loving the latest Principe Disco 12" from DJ Nervoso and relaxing with the Beatrice Dillon and Rupert Clervaux release from earlier this year.
There's also all the new gang coming through on Livity Sound: Batu, Simo Cell, Forest Drive West. We've got a 12" coming in the new year by a guy called Via Marris thats sick too. Listening to what these producers are coming up with really drives me to create in the studio.
How did you get to your first rave, do you remember it?
Must have been about 1998 or something, there were always raves in the quarries around the rural part of the UK where i grew up. The music at these things was always terrible, either really hard as nails techno with vocals or what was known as speed garage – basically US house tunes pitched up to 140bpm. When you're sixteen years old though these things always seem a lot better though! Eventually we ended up playing a few of these and that was kind of where we learnt to DJ.
You presented your solo act at Berghain this year, how was the party like?
Really enjoyed it! Berghain is such an amazing venue to play and I've been very lucky to be asked back time and time again over the past few years. Everytime I find it terrifying but that's part of what makes it so special. This time was the first time I'd done a solo live show, ever, so it was a particularly big one for me. I think it went well though, Objekt and Pangaea were in the crowd and they said nice things about it so that's good enough for me..
Do you follow Berlin techno scene? Do you have any recommendations for artists?
You know I follow it sometimes but really i'm much more interested in the music on the edges of the Berlin scene. People with their own takes on techno, producers like Blawan or Kassem Mosse or Karen Gwyer going wild with sound and putting a whole new take on things. I like labels like Acido or Hidden Hawaii, I like what the Ilian Tape guys do, same with MMM. I think what these people do has a lot more in common with the way I percieve music than more generic Berlin stuff.
You have also joined the Dekmantel Festival in Amsterdam together with Peverelist. Do you prefer club playing or festival vibes? Which one is more special to you?
Both have their place: when its hot and sunny like it was at Dekmantel is super nice to be outside playing to a crowd thats laughing and smiling, at the same time when its dark and moody and your playing a basement somewhere thats a killer feeling too. I think you need both for variation!
Did you hear about the Ukraine rave revolution in recent years? It is growing pretty fast, are you interested in playing somewhere in Eastern-european countries, e.g. in Kiev?
I played in Kiev a few years ago now, a couple of months after the actual 2014 revolution and it was great, lovely people and a great venue. I played from 2 til 8am then went and got on a flight home straight after. Its great to see so much activity in the Eastern Bloc, I need to witness more of it in real life. We were in Prague a few weeks ago and I'm playing Cluj in Romania on Wednesday as well as the show in Batislava so we're getting to see a few places, I'm really looking forward to it.
Somewhere in the interview, you mentioned that you have stopped smoking weed after some, let's say, pretty bad coincidences. Do you think you would be somewhere else if that all wouldn't happen?
Yeah almost certainly. I mean I wouldn't recommend it as a way to stop smoking but getting ill definitely shook me up and gave me a fresh start. Weed has its benefits but it definitely makes being motivated more of a challenge.
More info in FB Event.
–
Interview: Denisa Funtíková