[ENGLISH interview below]
UPDATE: ★ [Later after this Interview, we have organized 3 shows of Sadaf in Czech Republic and Slovakia. Here are the fotos from New Synagogue, Žilina + here is the tour diary for Paper Mag]. Sadaf is open for Europe bookings from April 2020. More info: budkekristof@gmail.com or Swine Agency Instagram] ★
▼ ▼ ▼
SADAF som našiel úplnou náhodou, browsovaním cez Twitter. Vyskočil na mňa obrázok jej nového albumu History Of Heat. Ako naznačoval už cover art albumu, naozaj ide o jeden z najunikátnejších hudobných projektov tohto roku. Tvorba Iránskej multidisciplinárnej umelkyne sa nedá ľahko zaradiť do jedného prostého žánru. Plynulo prešla z výtvarného umenia, fotografie cez performanciu až po experimentálnu hudbu. Je huslistka, producentka, vokalistka. Jej tvorbu vystavili už na takých podujatiach ako 9. Berlin Biennale, MOMA PS1 Warm up & Sunday Sessions, ale aj galérie v Číne, Kanade, Švajčiarsku či vo Francúzsku.
TAGS: #experimental #neoclassical #New York
1) How was your day and where are you right now?
My day is rolling on slowly. I'm at the New York Public Library on 42nd street by Bryant Park, the one with the marble, the lions and the tourists.
2) If I'm right, you are currently studying performance at NYU? How does this influence you in your work?
I actually graduated from that program almost four years ago. Studying never directly influenced my work, but it definitely did affect my thinking and writing process. What interested me in going back to school was the rigor required to study theory, which is something that really benefits from an academic environment. What was inspiring was that I got to work with Avital Ronell, Jack Halberstam and Paul Preciado, who are great thinkers. Of course, we can't dismiss the huge financial pressure and the debts acquired by going to school especially in the United States. A big part of the reason I did that is because eventually I would like to do a Ph.D., and perhaps teach or write more extensively. I'm still thinking about it…
3) I love the constant mixture of dark and light in the History of Heat. It's really unique and brilliant. Can you explain the process of creating this album? How did you come to this unusual combination of hard post-club beats, crazy echos, reverbs, and then soft melodies and dreamy violin?
I don't usually have a process, and at the same time, I always have the same process, which starts with improvisation. The instrumentals come first, the words second and the violin last. Other than that It came together quite organically over the course of a few years. I produced everything myself so every aspect of this album is me.
I think that the light and dark is created because of the push and pull between the sensual versus the romantic… and I mean both of those terms in the context of creating.
The sensual side is the side obsessed with textures, combination of sounds, the formal aspects of the production that have to do with creating an experience. The romantic side would be the aspects that are interested in creating emotion, melodies that can be remembered, poetry, sentimentality and a certain sense of melancholy. I think improvisation is very much connected to our subconscious, which would explain the feeling of guilt I have every time I release music. I feel I haven't filtered anything and I'm afraid of what could have come out. Improvisation can be very indiscreet. Sometimes I feel as if I did not make the album, and that it made itself… haha, but this is not true… It did not make itself.
4) To go through the whole album, it's really spiritual and intense emotional experience. Did you get through something very emotional in your personal life before this album?
I can see why you would think that… but with me things are not factual; it's more about the movements of the soul. The process of putting the album together spans several years and the songs were written in different moments in time and through different experiences. It's experience elevated to fiction, which is maybe the truest way to do a self-portrait.
I think this album captures a mood of my twenties. It is not something I will ever go through again (thankfully). It is about love, but it's also a narrative … I want it to be seen as a fictional film. I do use my own name as an artist name so I guess everything I do can be looked at as Autobiographical Fiction.
Also, I wanted to frame this album around the demise of a relationship, not because I have something to say about love (I think I can only properly do that at the end of my life), but because I wanted to open a dialogue about it outside of the mainstream, and talk about the complex and contradictory feelings we go thought with others. I think it's not in style to talk about love in this way, as an intense spiritual experience that holds both the positive and the negative at the same time. I think we are living in a time where relationships are consumed more than lived, and more than ever, people are absolutely disposable to each other. This could have something to do with productivity and a sort of propaganda about freedom. For me, to really experience love is to be at the mercy of the unpredictable, it could destroy you if the other person leaves or dies; there is a real danger. I believe that Intimacy is the real transgression now because it cannot be commoditized. Barthes talked about this "Taboo of sentimentality" in the '70s, so it's nothing new actually. Another abstract concept within the album is this idea of heat that is produced in the body when strong emotions are present. I hadn't read Gaston Bachelard's Psychoanalysis of Fire until after, but it has become a great reference for me. The last album was about ashes, and the Shell of something that is burnt or carried to it's extreme, and this one is more about being alive, the heat of the moment and the blindness and confusion it can create.
5) I want to talk little about the cover. It's one of the best album covers I've seen this year. Personally, it reminds me series of Pinturas Negras from Spanish painter Francisco Goya. How was created this artwork? What was the inspiration behind it?
I'm very flattered, thank you, I like Goya and that series very much. The cover is from a series of self-portraits I took. I was alone in a photo studio for the course of a day and experimented a lot with a self-timer. The album is quite dark and so I wanted to be emerging from shadows, and I also find the music and sentiments to be a bit Baroque, so it definitely has that side to it. In the photo, I am covered with strands of dark hair, which is a recreation of the costuming I made for a performance at the Berlin Biennale a few years ago. The inspiration for the formation of the crumpled papers on the ground (a sort of bed or coffin that I sit on top of) came from a Helen Cixous interview where she describes her method for writing a book. She says she likes to write like a painter, so she spreads out papers of all sizes and shapes on her table and has different pens and pencils in different colors and she starts to write fragments.
I love this tactile way of working, and it made a lot of sense for the title "History of Heat", which can sound like a bizarre academic text. It became kind of about: how do you write the history of something that can't be written (heat)… or to take it further, how do you define love?
The answer is you can't, so all efforts are futile, and that's why all the papers are crumpled or thrown on the ground. It is a futile effort to explain the unexplainable. This is an homage to writing, and how through words, everything becomes fiction.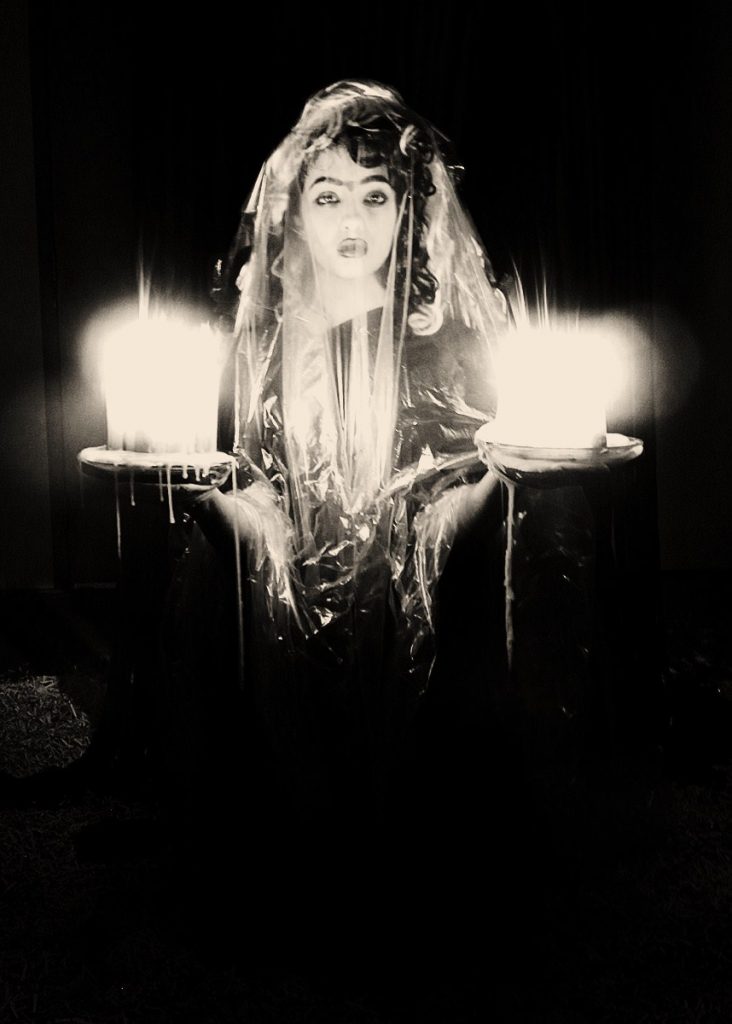 6) Some of the recommended artists Bandcamp, or Twitter shows me beside your profile is Puce Mary, Chino Amobi, or LAFAWNDAH… What artists do you listen to and admire? Did you have serious conversations with some artists during the writing of the album?
I think it makes sense in terms of a shared scene, a similar audience and the place we occupy in the music industry but in terms of content I think we each present a very distinct and different vision. I think right now a lot of fellow musicians and friends present a sense of empowerment, strength, and a strong aura of confidence. I often find that I am more inspired by and interested in vulnerability, melancholy, alienation…and also anger. I think a lot of my work is about the failure or frustration in getting what one wants. There's a lyric by Daniel Darc that goes:
"Les regrets ça va droit au cœur et ça y reste, Jusqu'à c'qu'on meure", or PNL's line in a l'Ammoniaque "J'crois que personne ne vit sans regrets, nous, on est tout le contraire de Piaf, cerveaux à chaud, le cœur baisse les degrés, Ouais, ouais, ouais, ouais, ouais."
In terms of conversations, I had a lot of daily chats with my good friend and former collaborator Cecilia (Halcyon Veil records). I think she is the only musician currently working who I really relate to. Even though we have a lot of differences, in terms of content and a way to work or see the world, I am inspired by her often.
7) I read that you have been playing alongside guitarist Arto Lindsay. How this collaboration came to life? Did you contacted him and he liked your music?
I never collaborated with Arto Lindsay actually. I was asked to play as an opening act for one of his shows, this was several years ago. I was really happy because my heroes in high school, before I ever thought I would live in NYC were Arto Lindsay (I loved DNA) and Jonas Mekas, and when I moved here I ended up working at Anthology Film Archives for a year and then I got to play on the same bill as someone who had inspired me to make music (Lindsay). It made me feel as if I was where I needed to be.
8) Because I am DJ myself, I love your statement in i-D interview: "DJing should be more curatorial, than craft-oriented. When it's genre-specific, it becomes almost fascist." I found quite boring DJs that play one style for 3 hours. How do you prepare your DJ sets? Of course, it depends on capacity, time and venue, but you always try to present a new style, new story with your DJ sets?
I rarely prepare live DJ sets. All the preparation or work is in the searching part, where I sit down and download or source new music. Even then it's a very fast process. It once again goes to improvisation when I play live, It's a way to dialogue with the crowd in real time. But now I do a monthly radio show on Rinse FM, and for those mixes, I work more around a loose narrative or thematic that could connect the songs in order to create a mood and a story. I also really like spoken textures and quotations and non-musical fragments. It helps to create a narrative and also serves as a kind of notebook of the things I enjoy.
[bandcamp width=350 height=470 album=1799089102 size=large bgcol=ffffff linkcol=de270f tracklist=false]
–
Text + Questions: Krištof Budke