Imre Kiss is a music producer and graphic designer based in Budapest, Hungary. He was born to Hungarian parents in Šamorín, Slovakia, but at the age of fourteen left to study in Budapest. In 2008 he moved to Ireland where he stayed for a year before moving on to London, where he freelanced as a designer until 2013.
He then returned to Budapest, where he and his cousin founded Atelier Kiss. Imre is part of the emerging new wave of Hungarian  house/techno scene, along with producers like Route 8, Alpár or S. Olbricht.
In 2013, his debut record Midnight Wave was released on the Hungarian label Farbwechsel. His work was noticed by Jimmy Asquith, head of the London-based Lobster Theremin, which led to release of the Raw Energy EP, while the Slovak label Proto Sites put out a vinyl split release with Casi Cada Minuto, A-Sites. The following interview with Imre was conducted via e-mail.
It is hard to describe your music in words. How would you describe it yourself?
That's a tough one for me, too. Hazy is the word I often hear from people. I think it's a bit chunky and bass heavy these days (smiles).
How did you first start to collaborate with the Slovak label Proto Sites? Can you tell us a bit about the split release with Casi Cada Minuto? Were there any complications or disagreements?
Juraj from Exitab/Proto Sites liked the tape I did for Farbwechsel. He invited me to play before Laurel Halo in Bratislava and we kept in touch afterwards. One day he hit me up and told me about his idea for the split release. I liked the idea so I was happy to be involved. Also, I was born in Slovakia so it felt right to work with a label there.
Your music is put out mostly by the Hungarian record label Farbwechsel and the London-based Lobster Theremin, which I believe is where your debut EP Raw Energy was published, too. Which of these do you consider to be your home label, and how and why did you start working with them in the first place?
It all started when I became friends with the guys from Farbwechsel. Back than they were only functioning as a blog. We were just a bunch of guys sending music to each other, hanging out and drinking beers (well, I guess we still are). Everyone was sitting on tons of tracks waiting to be release and nobody was really sending them to labels. I think it was a natural process that they decided to continue as a record label and me releasing my debut album with them. Soon after my debut release on Farbwechsel Jimmy from Lobster Theremin contacted me if I'm interested doing an EP for them. I've sent him a bunch of tracks and that's how Raw Energy came together. I really like the aesthetic of the label and the fact that it didn't get recognition by signing big name producers to their roster. It's all about the music regardless how many fans you have on soundcloud or whatever. I really respect both of these labels and we're good mates so I'd like to continue to work with them in the future.
The thick, dream-like ambience of your music reminds me of shoegaze/dream pop bands such as Slowdive or My Bloody Valentine. Is there any such actual influence on your work coming from these music genres?
I'm really into that 80's/early 90's shoegaze sound and the new romanticism movement. I think it was a very interesting period for music. It must have been a breath of fresh air after the 70's was dominated by guitar heavy stadium rock.
It was definitely a time of experimentation, eyeliners and reverb, lots of reverb (smiles).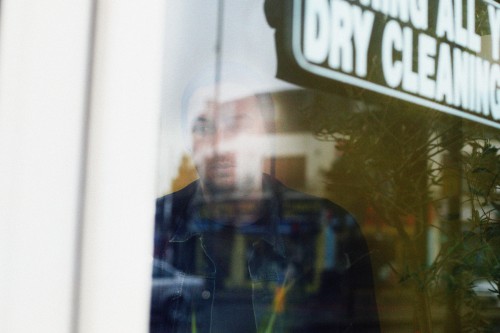 Are there any music artists that you put conscious references to in your music at all?
Sometimes there are references but it's mainly to artists that work in different fields. I'm mainly inspired by films, exhibitions or books. For example the track "Gray's Legend" was named after The Picture of Dorian Gray by Oscar Wilde which I was reading at the time. I like to think that stuff you experience by seeing or reading incorporates into your own production.
What kind of music did you grow up with and what do you listen to these days?
My dad used to listen to a lot of early Vangelis, Brian Eno and Kraftwerk when we were young so luckily I was growing up in a house with good music. In my early teens I discovered Coil's Love's Secret Domain album and it completely blew my mind. Oddly it also introduced me to acid house. It had such a rich spectrum of music and it didn't sound like anything I'd heard before.There's a lot of great music these days. Labels like the Trilogy Tapes, PAN or Opal Tapes are constantly releasing great electronic music but I could go on with a list of labels and producers for days.
I believe you also do work in graphic design as Atelier Kiss (which has some really nice works, by the way). Is this something you actually studied or did you teach yourself?
Thanks! I'm running Atelier Kiss with my cousin since 2013. Designing probably takes up most of my time. I studied it on a basic level and then went on to work for different agencies around Europe.
In recent times, we hear a lot about the Farbwechsel label and names such as S.Olbricht, Road 8, Alpár, you of course, and so on. Would you say electronic music is experiencing a sort of golden era in Hungary? Are there any musicians you like?
We're in a better position now than labels let's say 10-15 years ago because in this age of social media small DIY labels are able to reach a wider audience. I think this "golden era" is happening all over Europe and beyond. Also, people seem to buy physical copies so it does encourage one to start a label. At Farbwechsel everyone has their own unique take on electronic music which makes it exciting. Norwell's full length LP is one to watch for.
What are you working on at the moment, is there an EP or an album to look forward to in the near future?
We are re-releasing Midnight Wave on vinyl with Lobster Theremin. It has a completely new artwork and it's re-mastered. Should be hitting the shops later this spring. There are also plans for a second EP on Lobster Theremin and other bits are hopefully coming later this year.
–
You can find Imre on Facebook and SoundCloud.
Foto: Archive of Imre Kiss Questions: Krištof Budke