Earlier this year we've been having a chat with the rap duo Ho99o9 (also known as HO99o9 Death Kult) which comes from Newark, New Jersey, but is currently living in Los Angeles. Behind the name Ho99o9 (pronounced as Horror) is theOGM and Eaddy. In the short period of time they managed to build a strong, cult fanbase through their energic live shows. This summer, they've made their first European tour. Live shows and the connection with their audience is more importand for the band than media support. but even Pitchfork, Rolling Stones, LA Weekly, Noisey VICE or i-D mag are talking about Ho99o9. Their music genre is not easily defined. They are inspired with everything from horrorcore, hardcore punk, experimental music and hip-hop.
Do not hesitate and read more in our immediate interview with the band.
How is going your tour? I know you have also some other Europe dates.
A: Pretty good, we've been playing mostly on festivals. There has been big crowds and really good response.
How do you feel about the audiences in Europe countries? Is here different reception of your music, than in America?
A: Well, we haven't been playing on that many festivals in the US yet, so I'd say here it is obviouly really good for us.
It is like festivals in Europe and club shows in the US?
A: Ye, we've been playing couple, maybe like one or two. That was it. So, I can't really compare it yet, because in Europe we have played club show and festivals, and its so good everywhere, but the shows in the US are really good though.
Has LA important impact on your music? Or you can create music whenever you want in the world.
A: Ye, LA is a good place for us, actually, because we are from New Yersey, when we moved to LA we had more opportunity or more ways for people to accept us and our music. New Yersey people are still closeminded. They still don't get it. And in LA they get it like right away. We've played a couple shows and they already got it.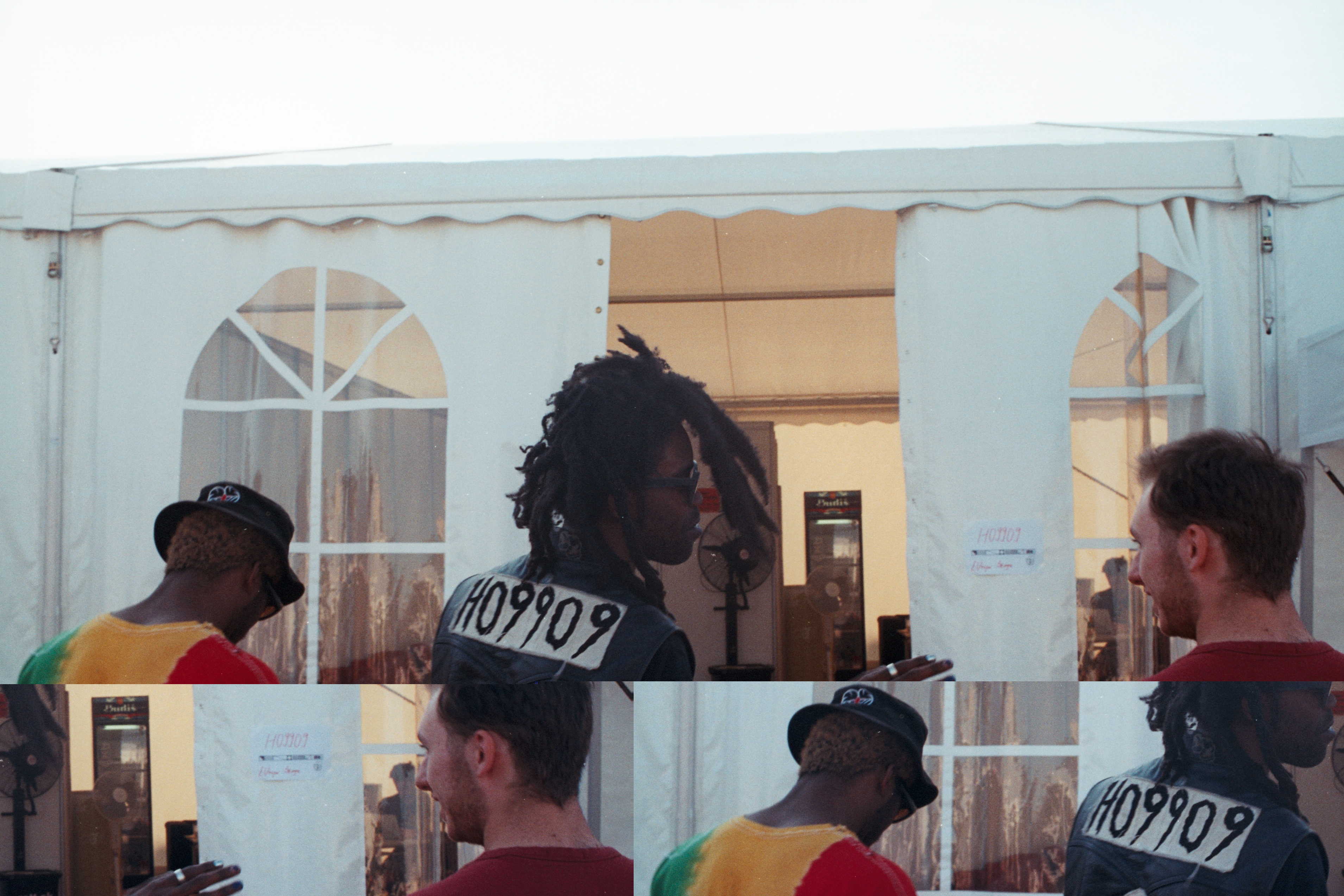 You have some ideas and…
A: Yeah, and this was like, Ok. The shit is tight, its cool. And New Yersey is like "oh, is that cool? I don't know. Yo, is that cool?" They just can't see, they gotta wait until like twenty people say its cool for them to be like "oh, thats cool.", and in LA, the shit is just tight.
What is current hardcore scene like?
A: In LA? Good hardcore scene for sure. I am not gonna elaborate on that.
Like beatmakers and such…
A: Ye, it is an avenue for everything.
In our blog Swine Daily, we are also interested in visual arts. Do you collaborate with some contemporart artists? Is it important for you the visual side of your music?
A: Visual art is a part of the band. Music is like only a one spectrum of what we do. Stage is one way, the visuals is another way of the music that you hear off the stage.
Do you also create any art? Like paintings and stuff.
B: Its like he said. I mean, what the music is is just way deeper than just music, you know, when you see the band its just whole bunch of perspective of art. From the way you dress, the attitude, the overall picture when you see the band. Music is just one front of things.
Do you have any artist you collaborate with?
B: For most parts, we like to do it ourselves. We dont like many people around, asking someone for favors. Trying to get contact with this person. I am not the type of the person who knows the person and such. Its just too much. Too much run around sometimes.
A: Usually when we do the collaborations its with people who naturally already enjoy what we do. We dont really reach out to too many people trying to work with them. Usually they reach out to us and we genuinely have a connection and then we collaborate. We dont really wanna collaborate with the people who dont wanna collaborate.
You were working with Converse on a music video for "Blood Waves", which was super cool.
A: The thing is we wear Converse. Actually I am wearing Vans right now, he is wearing Converse. But we've always worn Converse and Converse always had a cool platform for artists, for skaters in general.
Was it your idea?
A: Actually they came to us if we wanted to do a project and I was like "ye, its cool". So we just gave them the ideas on what we wanted for the video and it was that. It was just super crazy, you know.
B: It is like a universal sneaker. People like us wore it as a kids, you know. Even now when we went on stage. So when they had contacted us, we were like "oh ye, we wear those"
A: Ye, if we didn't like Converse, we wouldn't do it.
B: If for example Reebok came to us and asked us to do an commercial, we would be like "uhm, no" because I don't wear Reebok.
A: As I am saying. If we didn't like Converse, we wouldn't do it. We wouldn't do it just because it is Converse.
What was your general music making process like? Have you got any studio?
A: We got friend studios. Sometimes we just make the studio in the house, we set up stuff in the living room and we record there. But most of our friends have different studios at their homes or different space. It just depends at what type of mood we are in. Sometimes we wanna work with a lot of instruments. We call various people up, people who play guitars, drums and other instruments. Then it feels like jam and we make something up. And sometimes we feel like we wanna make something like hard rap or some shit and we got our man for that, hes all in the vibes.
 You are also a beatmaker?
A: Ye, I just learned how to make beats like last year.
Me too, I just bought from my friend an AKAI MPK Mini.
A: Yeah, me too, the same! (laughs).
It is pretty cool!
A: Yes, it is. (laughs) Once you got started you feel like little kid. You are trying to have fun.
You have released EPs and smaller projects, as far as I know. Are you working on an album?
A: We dropped the first EP, the mixtape and we got few songs before that. And yes, we are. We always got some unreleased music. It is just a matter of time before we wanna drop an actual album.
Are you working with a label?
A: Right now we are independent.
B: It's just us.
Is it hard to make your way without a label to release under?
A: It has its pros and its cons. This way, we've got more freedom to do whatever we want whenever we want. With label, the only good thing about it is that you've got resourced. They've got connections, they've got more money in to help you get wherever you need to go. Besided that, we've been getting all kinda good. We've been doing it with no label for like two years now. We are getting invited to play on really solid festivals and we are receiving good offers. Not too bad.
Where do you see yourself in three years? Have you got any plans for the future?
A: Ye, we wanna promote our music all around the world and play as many shows as possible.
B: We wanna get better, faster, stronger.
A: (laughs). We just wanna have fun to be honest.
I think it is really cool perk of your music that it is appealing for punk fans. I am personally a fan of Bad Brains and Black Flag. Do you see punk music as some sort of inspiration in your work?
A: Everything can be used as an inspiration. It is exciting. We are also friends of local shows, and we go on concerts when we've got free time. It ejects good energy and gives you an opportunity to hear good music. It usually fills me with motivation to continue my own work. I am just high on that shit.
Who are your favourite rappers and producers right now? Or musicians in general.
A: Favourite musicians? Probably me. Like us. I'dont listen to other artists. They are already where they are.
What do you think is the biggest problem of music industry nowadays? What makes you concerned the most?
A: Personally I would say that there is a formula. There is a formula for music. Whether it is pop, rock, rap or country or whatever. In order to make you've got to make songs to sound the certain way. Like you can't be free and me popular at the same time. We make what we wanna make. Sometime people can't even put us in a genre.
B: Sometimes I see artist and I say to myself that they aren't even real musicians. I see something on the internet and I'm like " something like this is really out there and someone is supporting it?". We put our tears and hearts into this. It is our music, our lives, our shows, our audience, our appeareance. This is our life.
Do you know Young Fathers? We've have talked with them as well and we've been talking about their life outside of music. They keep working really hard, but it keeps them going.
A: Ye. exactly. This is what keeps us going. We do this full time. At the point where we wouldn't be doing this full time we would be doing shitty nine to five and do music besides that. And as I said, we do this full time and it is our life. Literally. We také it really seriously. Its just sound weird when we go to the rap shows and the rappers got backing track playing. It is like karaoke. You make people pay money to see the live show and you just do that.
It happens in Slovakia as well and I agree with you. I think it is just stupid.
A: Anybody can do that. You could do that. We all can go around and do that shit.
B: You just gotta be a real thing. You can't go around trying to be famous and be someone you are not.
A: Ye, we are just doing our thing and if we happen to be famous and cool, so be it.
Did you make any music when you were younger?
A: I've been rapping and writing since I was fourteen. I've always been into music but it didn't got far until I've been in a band.
How did you meet each other?
A: We've been friends for like nine years. Even before the band.
B: I haven't made music at all. I just went to the shows and got drunk. (laughs)
A: Ye, he was that kind of guy who got drunk and started jumping around. You know, punk shit. I just told him to start rapping and he did. (laughs)
Did you also played on the OFF festival in Katowice?
A: Ye, it was actually really good. Poland was just a little weird because there are no black people there. (laughs). People were kinda looking at us when we arrived like we were crazy. But the actual show and the festival was neat.
The thing I like about the OFF festival that it is for music fans. People actually listen to the music there.
A: True, usually people just chill around and drink on most of the festivals. It's all about the atmosphere.
Like Ho99o9 on Facebook and follow them on Twitter or Instagram.
–
Questions: Krištof Budke Editing: Karel Havlíček Foto: Verana Dobal