I think I've found Maria Teriaeva, Siberian-born Moscow-based music producer, on Bandcamp during my research for the Special Mentions of 2020 article. I was immediately drawn to the clean red-orange design cover of her album Conservatory of Flowers. Here it is:
This is her second studio project after her debut Focus from 2017. Maria's main music element is a modular synthesizer and her music on CoF focuses on "rhythm and percussive elements, cutting down ambient passages and leaning even more toward traditional song forms, structuring compositions into pop-length pieces." This project was composed at her dacha (cottage in Russian) outside of Moscow during one summer. Then, she has been working on it over three years. Inspired by surrounding nature, she achieved a vibrant and organic feeling, that made her music sound almost like a fluid. When you start listening to her music, prepare a little bit, make a comfortable environment, relax. Listening to the CoF is really a fascinating sonic adventure, it's like watching a strange but beautiful sci-fi movie.
▰ Thank you very much for this interview! Where are you right now, and how was your day?:)
It's my day off today, and I'm glad to talk with you. Snow is falling in Moscow, my cat and a cup of morning coffee are in front of me.
▰ You have mentioned in the official description, that you are Siberian-born, Moscow-based artist. When did you move to Moscow and how are you happy with life in Moscow?
Yes, until I was 21 I lived in the large Siberian city of Krasnoyarsk, studied at the university and played the guitar in my rock band. Moving to Moscow was associated with the development of a musical career, the whole group moved to Moscow to try to become famous not only in Siberia but after six months we were burnt. I think this is the best city among other cities in Russia. I love Moscow and am glad that I moved here right after graduating from university, despite how it turned out with my band.
▰ What about the electronic music scene in Russia's capital? You have a lot of artists-friends, with whom you discuss music and art?
There's an electronic scene in Moscow, and it is big. Since I've played guitar in various indie bands for most of my musical career, I have a lot of friends musicians across different genres, not only from the electronic scene. To be honest, I'm not the most sociable person, so my close circle of friends is not that huge. Most of my friends are creatives and are not necessarily musicians.
▰ When did you come across the modular synthesizer for the first time? Did you play some other instruments as well?
It was around 2015-16, I didn't get interested in the modular synthesizers back when I first came across them. It happened a little later when I heard the Buchla Easel; I got so excited about it that I decided to put aside the guitar I'd been playing since I was 14, to leave a rather famous group in Russia, and to go completely into solo work.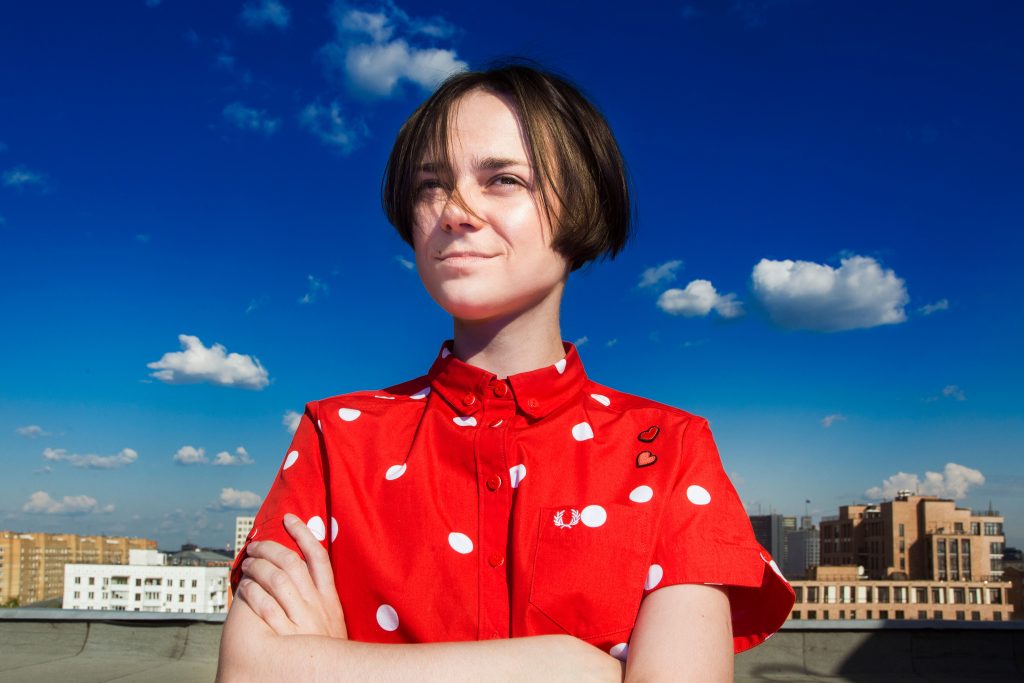 ▰ When I heard the whole Conservatory Of Flowers, it sounded very unique and original to me. In the short description of the album to my series of Special Mentions (overlooked albums of 2020) I wrote, that you "… started an intergalactic journey to find the yet unknown electronic sounds." Do you spend a lot of time creating and modulating specific unique sounds? Are you maybe thinking about this aspect?
Ohhh, thank you, I do pay a lot of attention to sound, in particular focusing on finding unique sounds, it takes a lot of time in some cases. The whole album took me about 3 years, also because I went down the path of painstakingly collecting sounds and putting them into compositions with structure. I'm really not interested in using just a drum machine to get the rhythm structure, or using the chord progression on the guitar to get harmony.
▰ How long and how difficult was the creation process of the COF album?
It took about 3 years, but I allowed myself to take my time and work on compositions at a measured pace. I tried different approaches; some were really excruciating haha. Buchla is a rather chaotic instrument, and it is fairly difficult to pacify it, even pointless I would say.
▰ My friend, also a modular synthesizer producer (16colors), told me it's quite impossible to modulate the exact sounds and sequences for the second time. I wanted to book him to play his album, and he said he can't guarantee the show and was skeptical about it. Is it possible to play Conservatory of Flowers live?
That's a good question. When I was composing the Conservatory of Flowers album, I honestly didn't think about how I would play it. As it turned out, it would be really complicated to play it live entirely as on the recordings. But as my last performance showed, some compositions could be interesting to play by assigning certain parts to winds, strings, guitar and drums. I like to combine modular synthesizers with other instruments, it sounds powerful and emotional (live). Although, not a single concert of mine is complete without improvisation, where I demonstrate my skills and the possibilities of the Buchla in its purest form.
▰ I really love the cover by Ar Abeque and Stassia Saromova. I think it perfectly captures the mood of the album. Especially the red, orange, and pink color tones. Is the visual aspect of your art also important for you? How was this cover created?
The visual aspect is very important to me, and often there's a lot of work behind it. However, with this cover, it was easy. That shot was taken almost by accident while filming the SØS video – the director sent it to me, and right away I realized it would be the album cover.
▰ How this COVID-19 pandemic helped, or disrupted your creative process? Some of my friends-artists have more time for their art, some felt uninspired, and for a long time they couldn't write lyrics for example.
I would say I experience more creative stagnation these days, but there's been a tendency in easing the lockdown restrictions in Moscow lately (the situation seems to stabilize) – even nightclubs and big concert venues are re-opening, which encourages me and gives me strength for creativity.
░▌ You can follow Maria's work on Instagram, SoundCloud, or Spotify ▐░
▬
Questions: Krištof Budke